Ludus Magnus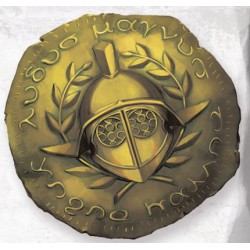 Despite her heroic victory, Hroka's tribe was forced north and east, and eventually absorbed by tr..
$40.00
Having won his freedom years ago, Hermes has embraced the sands as his home. A peerless supe..
$18.00
Trained in the arts of the arena from boyhood, Iason strikes with lethal grace and precision. ..
$18.50
For over 400 years Ludus Magnus has stood as the Roman Republic's most celebrated gladiator school. ..
$45.00
A wicked pairing of man and beast, Septimus and Nero are united in purpose on the sands. Onl..
$40.00
Brutal and unforgiving, Otho Mentulus dominates his foes in the arena and demoralizes them both wi..
$22.00
A street-tough urchin taken in young by a soft-hearted medicus, Septimus grew up in the heart of the..
$19.00
A former Legionnaire, Urbicus has embraced a career of survival, delivering others to the jaws of ..
$18.00
Viatrix has embraced the heart of what it is to be a gladiator. Crowds love watching the prova..
$18.00
Showing 1 to 9 of 9 (1 Pages)