Morituri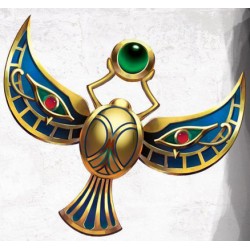 Anum plays a unique role in the munera of Aegyptus. The balance to the ritual and formula..
$27.50
A scion of the Ptolemies of old, Khepros lived a youth of wealth and leisure. As he grew..
$18.00
The royal ludus of Aegyptus, the Morituri elevate and twist the munera far beyond the scope of anyth..
$45.00
A captive too unruly for slavery and condemned to death in the arena, this man bears no name to spea..
$18.00
Giant scorpions have long been revered by the desert tribes for their hardiness, and prized by the..
$40.00
Thoth has taken for himself the mantle of lawgiver, and often acts as a ceremonial executioner for..
$21.00
Years of discipline have made this woman a formidable force. Uniting the role of ceremonial ..
$19.00
Zahra has proven herself no fool, though some would call her mad. This sandborn chose to break fro..
$19.00
Showing 1 to 8 of 8 (1 Pages)